Whether you're using it for salads, smoothies, or in your cooking, there's no denying that spinach is a delicious and nutritious way to add leafy greens to your diet. But, I know, sometimes it spoils before you have a chance to use it. Here's how to keep spinach fresh for longer.
Jump to:
Does spinach go bad?
Spinach is a nutrient-dense leafy green that's often boasted as one of the healthiest vegetables we can eat. That's because it's low in calories, yet high in vitamins, minerals, and antioxidants. It is also a great source of fiber. 
But, like all leafy greens, spinach can go bad if it is not stored properly.
It's important to know the signs of spoilage so that you can enjoy this healthy vegetable at its best. Here are the obvious signs that it's time to let your spinach go: 
Color change. First, take a look at the color of the leaves. If they have turned yellow or brown, they are no longer in their prime. 
Texture change. Second, check for slimy or wilted leaves. These are another sign that the spinach is no longer good to eat. 
Odor change. Finally, give the spinach a sniff. If it smells sour or "off", it's likely spoiled.
Mold. If the spinach has visible mold growing on it, discard it immediately.
By following these simple guidelines, you can ensure that your spinach is always fresh, flavorful and safe to eat.
The risk of consuming bad spinach
While spinach is generally considered to be a healthy food, there are some risks associated with eating the leafy green if it's spoiled. The most serious problem is that bad spinach may contain harmful bacteria, parasites or other contaminants that lead to food poisoning and other serious illnesses. 
So, it's important to make sure that you only eat fresh spinach that has been properly washed and stored. You should also cut away any bruised or damaged leaves before eating, as these are more likely to be contaminated. 
If you experience any unwanted symptoms after eating spinach, it's important to seek medical attention immediately. 
The bottom line: eating bad spinach isn't worth the risk.
How to pick spinach at the store
Here are my top tips for picking the perfect spinach:
Look for deep, dark green leaves that are crisp to the touch.
Look for firm, moist stems. Wilted or dry stems can indicate that the spinach is past its prime.
Avoid leaves that are wilted, slimy or yellowing. Not only is their risk of contaminants, but these leaves won't have the same flavor or nutrition.
For the best deal, buy spinach in bulk. You can use store what you'll need for the week in the fridge and freeze the rest.
If you're buying packaged, check the expiration date. Also, avoid packaging that has visible moisture, as this may be a sign that the spinach has spoiled.
How long does fresh spinach last?
Ideally, spinach should be used within a few days of being purchased. However, it can be stored in the fridge for up to 5 days. To extend its shelf life, you can also freeze spinach. Frozen spinach will stay fresh for up to 3 months.
Pin or save the chart below for reference at a later time:
| | | | |
| --- | --- | --- | --- |
| | Counter | Fridge | Freezer |
| Fresh spinach bunches | 2 hours | 5 days | 3 months |
| Fresh cut spinach | 2 hours | 5 days | 3 months |
| Cooked spinach | 2 hours | 4 days | - |
Keep reading for more details on each and storage tips to keep your spinach fresh for longer.
How long does spinach last out of the fridge?
Bacteria grows rapidly at temperatures between 40 - 140°F. So, avoid leaving your spinach at room temperature for long periods of time. Ideally, you'll want to refrigerate the leafy green within two hours.
How to store spinach in fridge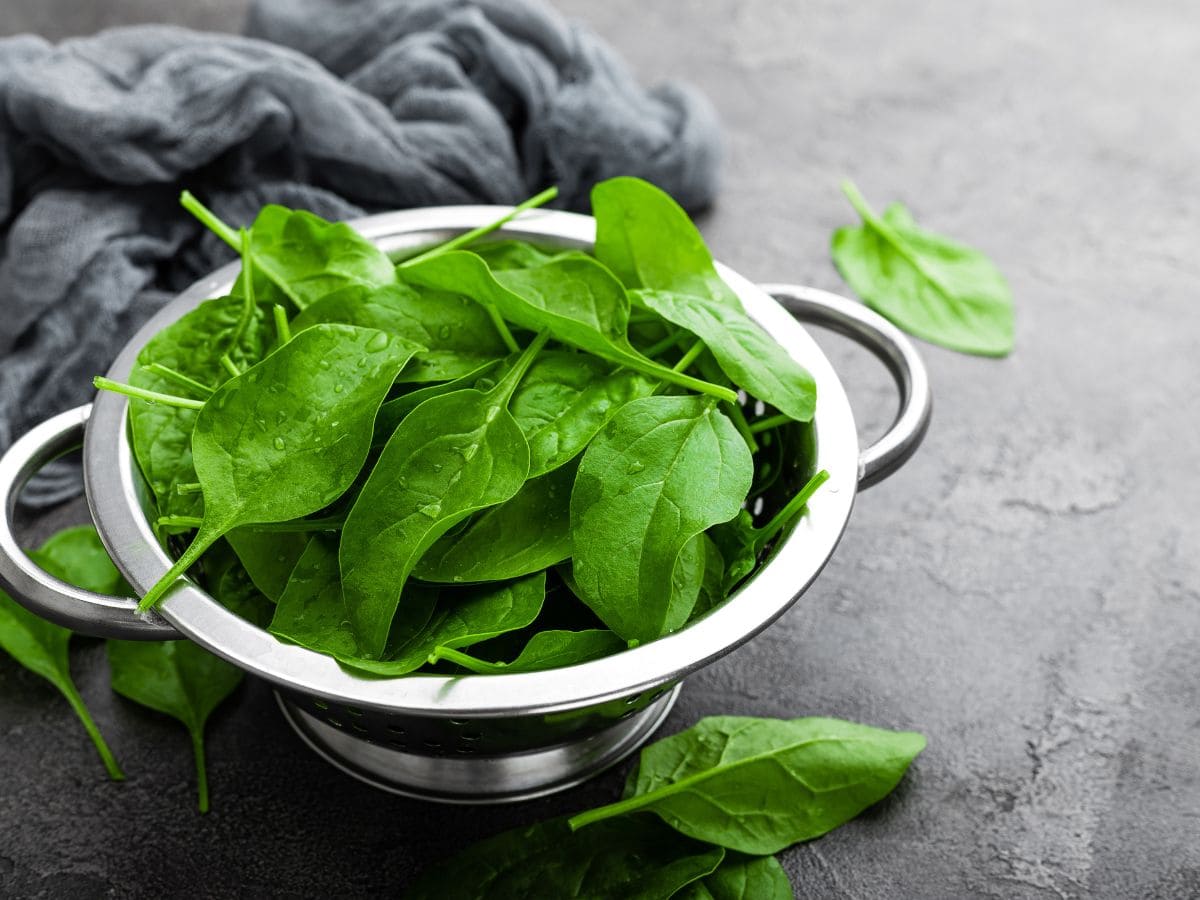 When storing spinach, it's all about eliminating excess moisture. Here's how to store washed, prepped spinach in the fridge: 
Wash the leaves thoroughly under running cold water to remove dirt and debris.
Dry the leaves with a towel or salad spinner to remove excess moisture.
Place the spinach in an airtight container or resealable plastic bag, removing as much air as possible. Wrap the leaves in a damp paper towel to prevent them from drying out. 
Store the spinach in the crisper drawer of your fridge. 
When you're ready to use it, simply remove the desired amount of spinach and enjoy it.
How to freeze spinach
While fresh spinach is usually the best option when it comes to taste and texture, sometimes it's just not possible enjoy it up before it spoils. That's where freezing spinach comes in. When stored properly, frozen spinach can retain its flavor and nutrients for up to 3 months. 
If you find yourself with an abundance of fresh spinach, here's how to freeze spinach:
Wash the leaves thoroughly under running cold water to remove dirt and debris.
Blanch the spinach by boiling it for 30-60 seconds. This will help to preserve its color and texture. 
Place the spinach in a colander and shock it in cold water. Once it's cool, squeeze out as much water as possible then a paper towel or salad spinner.
Place it in a freezer-safe container. Make sure to label the container with the date so you know how long it's been frozen. 
When you're ready to use the spinach, simply thaw it in the refrigerator overnight or use it directly from frozen.
Do you need to blanch spinach before freezing?
It depends when you want to use it. If you plan to use the frozen spinach within the month, you're safe to skip this step. For longer storage, it can be useful to blanch the spinach as it blocks an enzyme in the leafy green from changing the texture, flavour and colour of the spinach.
How to store cooked spinach
Cooked spinach can be stored in the fridge for up to 4 days. However, it's important to cool the spinach before storing it to avoid creating the ideal environment for bacteria growth. 
Here's how to store cooked spinach:
Let the cooked spinach cool to room temperature.
Place the cooked spinach in an airtight container and transfer to the refrigerator.

When you're ready to use the spinach,

reheat it in the microwave, oven or on the stovetop.
What can I do with too much fresh spinach?
Sure, you can freeze it (see instructions above!). But, there are so many ways to use up your fresh spinach in your cooking too. I want to make you the master of your own kitchen, so here are a few ideas:
Salad: spinach makes a fantastic base for salads!
Sandwiches and wraps: a delicious, nutritious and crunchy topping.
Smoothies: because of its mild flavor, spinach can easily and secretly be added to your shakes for a boost of nutrients.
Quiche and omelettes: spinach works great in egg dishes and makes them just a little bit healthier.
Soup: it's often added to soups and stews for flavor and a nutrition.
Pasta dishes: similarly, spinach is commonly added to pasta dishes (like lasagne!)
Sautéed spinach: enjoy it on its own with a little garlic and olive oil.
Spinach dips: who doesn't love spinach and artichoke dip?
Recipes with spinach
Feel free to use spinach as the leafy green in any of the smoothies below:
Similar articles
Fast facts
How to keep spinach fresh longer:
Don't leave spinach at room temperature for more than 2 hours to avoid harmful bacteria growth. 
Fresh spinach can be stored in the refrigerator for up to 5 days.
Cooked spinach will last in the refrigerator for up to 4 days. 
Spinach can be frozen for future use for up to 3 months. 
Now that you know how to keep spinach fresh longer, what other foods do you want to learn about? Let me know in the comments below and I'll be sure to answer them as best I can.