While it can be enjoyed any time of the day, many people believe that the best time to drink kefir is first thing in the morning on an empty stomach. Keep reading to learn all about the benefits of kefir and the real best time to have it.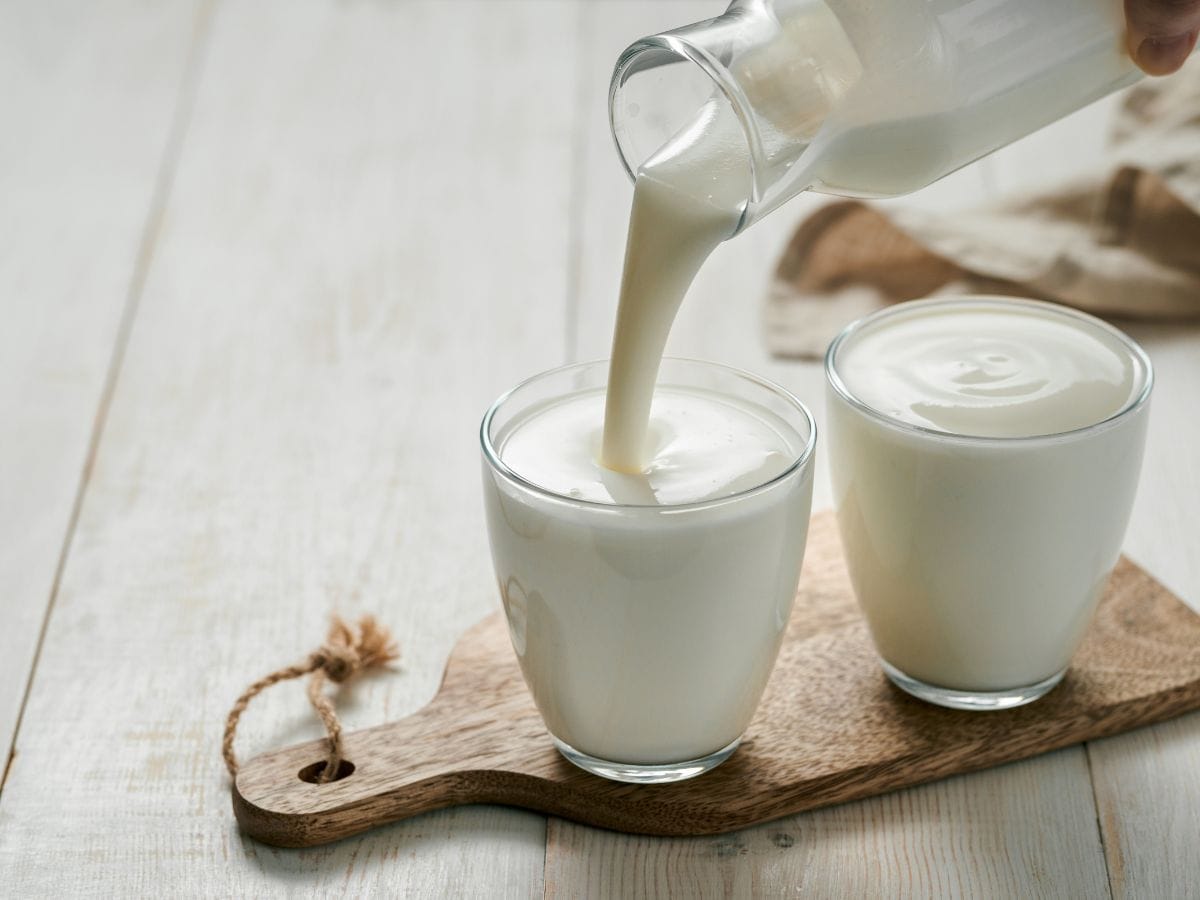 Jump to:
What is kefir?
Kefir is a fermented milk drink that was traditionally consumed in Eastern Europe and Russia. More recently, it's gained popularity in the West as a gut friendly food thanks to its high probiotic content.
But what exactly is it? Kefir is made by adding kefir grains to milk, causing the milk to ferment and produce a mildly sour, effervescent beverage. It can be made from cow's milk, goat's milk, or even coconut water, and each variety has a slightly different taste.
When is the best time to drink kefir?
While there is no definitive answer as to when the best time to drink kefir is, many experts recommend consuming it first thing in the morning on an empty stomach. This allows the probiotics in the kefir to reach the gut quickly and effectively.
But, ultimately, the best time of day to drink kefir is whenever suits you best and you are able to enjoy it regularly.
Can I drink kefir before bed?
Don't worry if you're not a morning person (like me), you can also enjoy kefir later in the day. Just be sure to keep an eye on your shut eye.
If you find it's affecting your sleep, you may want to steer clear of drinking kefir before bed. Because kefir is fermented, it contains high levels of lactic acid. This can make kefir easier to digest than milk for some people. However, for others, the lactic acid can cause gastrointestinal distress that interferes with rest.
That said, if it's not causing stomach upset, you may want to try using kefir as a sleep aid. Interestingly, kefir is loaded with the amino acid Tryptophan, a natural sleep inducer and serotonin enhancer which calms down the nervous system and promotes quality sleep.
So, like I said before, the best time to have kefir is whenever it suits your body and routine best.
How do you eat kefir for breakfast?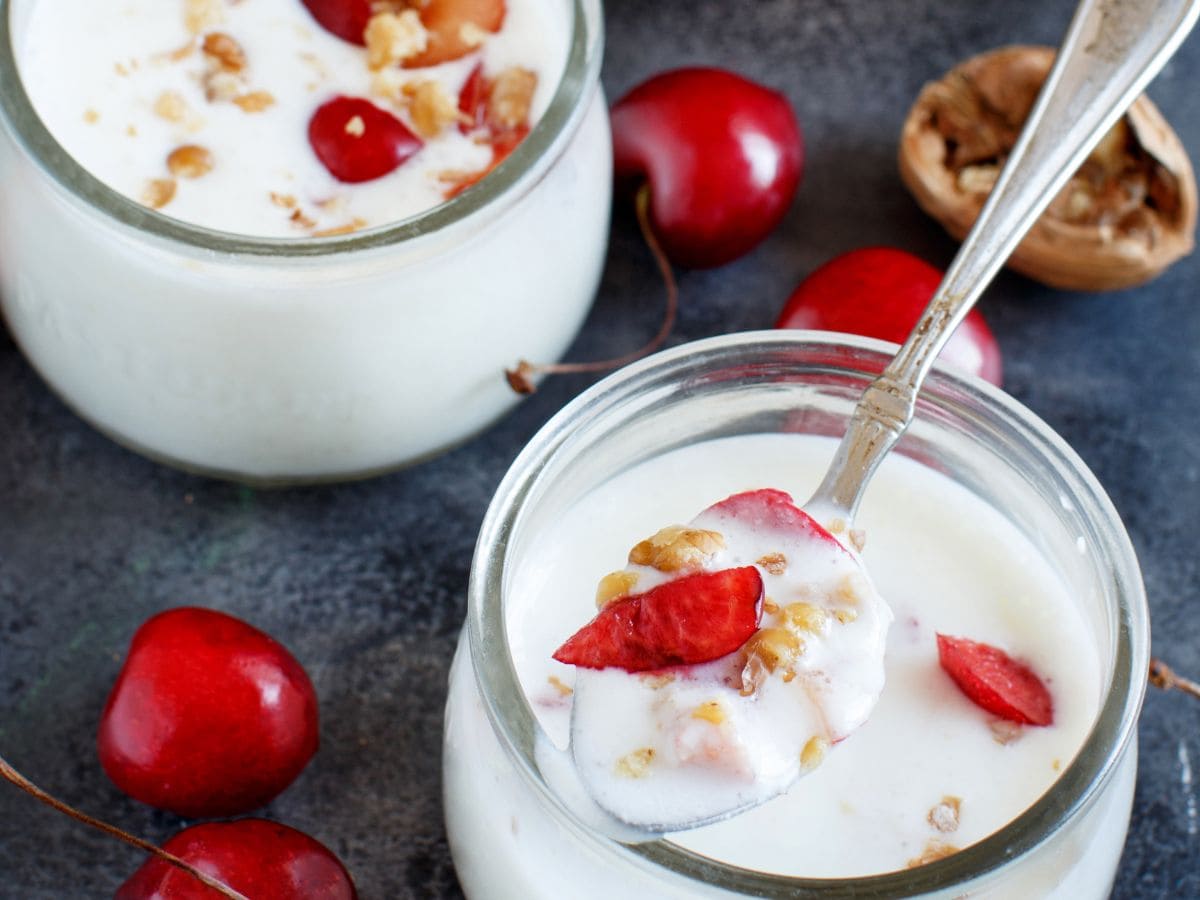 If you're looking for a healthy probiotic-rich food to start your day, kefir is the perfect choice. Whether you enjoy it plain or jazzed up, it will give your gut a boost of live bacteria, and show off as a great source of protein that can help keep you full until lunchtime.
Here are a few ways I like to enjoy it:
Enjoy a glass of it on its own or flavored with fruit, nuts, or spices.
Add it to your oatmeal or overnight oats. This combo is not only delicious, but makes for a balanced breakfast filled with carbohydrates, protein, and fat.
Use kefir as the base for a smoothie. For example, you can replace the greek yogurt with kefir in my Sour Apple Smoothie.
Add kefir to pancake or waffle batter for a light, fluffy texture.
Add kefir to muffin batter for moist, flavorful baked treats.
Can I drink coffee after kefir?
It depends. But, here are the rules I follow:
If you are drinking kefir for the probiotic benefits, then it's best to drink coffee at least 30 minutes after consuming kefir since the coffee can counteract the probiotics in the kefir.
However, if you're simply drinking kefir for enjoyment, then there is no need to wait. You can enjoy your cup of joe immediately after finishing your kefir.
How much kefir should I drink daily?
While there is no definitive answer to this question, drinking kefir on a daily basis is generally considered to be beneficial for your health.
That said, it's important to listen to your body and, like everything in life, practice moderation. Some people find they experience bloating or other digestive discomfort when they drink too much kefir. If this occurs, simply reduce your intake or take a break for a few days.
Ultimately, the best way to determine how much kefir is right for you is to experiment and see how your body responds. Start by drinking 4 ounces per day and increase your intake from there. As your body gets used to the probiotics in the kefir, you'll be able to handle more.
What are the benefits of kefir?
As I mentioned, kefir has numerous health benefits, including aiding in digestion, boosting the immune system, and reducing inflammation. Here's a closer look at each.
Kefir is teeming with probiotics

, which are live microorganisms that keep your gut healthy. Probiotics are important for overall health, as they help break down food, absorb nutrients, and fight off harmful bacteria. Kefir's probiotic content is one of the reasons why it's so good for gut health; studies have shown that kefir can help improve digestive issues like constipation and diarrhea.

In addition to its probiotic content, kefir also contains conjugated linoleic acid (CLA), a type of fatty acid that has been shown to aid in weight loss. CLA helps reduce body fat by preventing the body from storing fat and increasing metabolism. One study showed that people who took CLA supplements lost 9% of their body fat over a 12-week period. Therefore, regular consumption of kefir may help you reach your weight loss goals.
Kefir contains several anti-inflammatory compounds, including vitamin K2, calcium, and magnesium. These nutrients work together to reduce inflammation throughout the body. Research has shown that regular consumption of dairy products like kefir can help decrease the risk of inflammatory diseases like arthritis.
What are the side effects of kefir?
Just like any other food, kefir can cause side effects in some people. The most common side effect is bloating and gas, which is caused by the fermentation process of the milk. Some people may also experience an upset stomach or diarrhea.
In very rare cases, kefir can cause allergic reactions, such as hives or wheezing. If you experience any severe side effects, it's important to see a doctor right away. Otherwise, enjoy this delicious and nutritious drink.
Kefir vs yogurt
Though they are both cultured dairy products, kefir and yogurt differ in a few ways.
Kefir is made by adding kefir grains to milk, while yogurt is made by adding bacteria to milk. The different cultures used give each product different textures and tastes.
Kefir is thinner than yogurt and has a slightly sour taste, while yogurt is thicker and has a sweeter taste.
Both products contain beneficial probiotics, but kefir contains more probiotics than yogurt, which means it can be helpful for promoting gut health.
Kefir has been shown to be more effective than yogurt in improving lactose digestion and reducing inflammation. It can also boost the immune system and help reduce the risk of certain diseases.
Similar articles
Feeling inspired? Here's where you can learn more about holistic health and clean eating.
Fast Facts
Kefir is a fermented milk drink with numerous health benefits. It's rich in probiotics, which support gut health; it aids in weight loss; and it reduces inflammation throughout the body.
While many people believe that kefir is best consumed in the morning, the truth is that there is no wrong time to drink this probiotic-rich beverage.
Morning may be the best time to drink kefir for some people, others may find that they prefer to enjoy it in the evening or even before bed.
If you find it's affecting your sleep, you may want to steer clear of drinking kefir before bed.
Have another nutrition question? Leave it in the comments below and I'll do my best to answer it.